With Halloween approaching, it's an excellent time to plan a fun craft activity with your loved one. Halloween crafts for seniors should be simple, yet entertaining. The best craft ideas for seniors are easy to understand and don't use tiny pieces.
Before You Get Started
Before you begin, there are a few tips to follow to ensure your Halloween craft project is fun and fast:
Prepare all of the supplies needed for the project before beginning
Complete any time-consuming, preliminary steps before starting the craft project
Make sure you have plenty of space to move around comfortably
Have "extra hands" to help, if needed
Allow plenty of time to complete the craft, or plan on more than one session to finish
No-Sew Shirt Sleeve Pumpkin
This adorable and easy to make No-Sew Shirt Sleeve Pumpkin is made with a long-sleeved shirt, some twine and artificial leaves. It's the perfect pumpkin to display in a room or a common area.
To craft this rustic, country-themed pumpkin, you will need:
An old long-sleeved shirt (fall colors will look the best)
Twine
Rubber bands
Fiberfill to stuff your pumpkin
Glue (we recommend Mod Podge)
Scissors
Pencils
Optional: artificial fall leaves
For step-by-step instructions, visit Home in the Finger Lakes.
Jewel-Covered Bling Pumpkin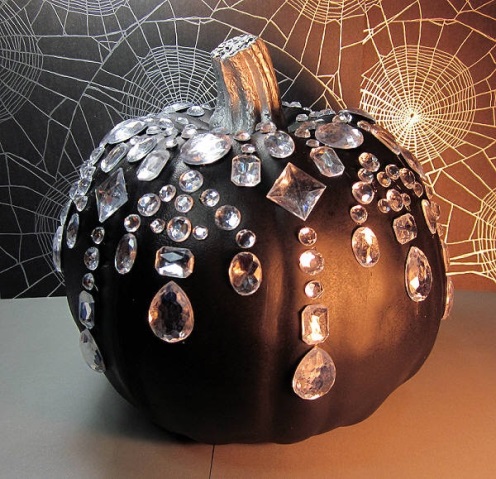 Who doesn't love bling? Seniors will love making these jewel-covered pumpkins to decorate their homes and living spaces.
For this sparkly project, you will need:
Black spray paint
One faux, plastic pumpkin
Assorted craft jewels
The key that will make this Halloween craft a great activity for seniors is using large gems, which are easier to handle. For the best results use craft jewels that have adhesive backs, to reduce complicated steps. It's still a good idea to have clear-drying glue on hand, just in case the jewels don't want to stick to the pumpkin.
It's also recommended to use plastic pumpkins, as they can be stored and reused as a decoration for years to come and are lighter than real ones. When spray-painting the pumpkins, do so in a well-ventilated area, and remember to lay newspaper down to protect surfaces.
For instructions on how to make this fancy bling pumpkin, visit HerCampus.
Mummy Candy Cans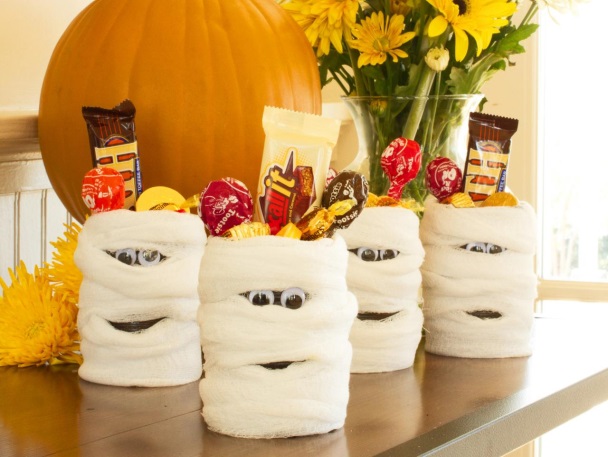 These spooky-cute little mummies are the perfect treat for little trick-or-treaters. Since this project requires pliers, make sure that the cans are prepped for seniors before beginning, and no stray metal bits are sticking out. When spray painting, please make sure it takes place in a well-ventilated area.
You will need:
Clean, empty tin can (any size will work)
Black spray paint (matte or semi-gloss)
Cheesecloth
Googly Eyes
Hot glue gun
Scissors
Pliers
For instructions on how to make these little ghouls, visit HGTV – Halloween Party Favor: Mummy Candy Cans.
Get Inspired With More Halloween Crafts for Seniors
The fun doesn't stop with these three craft ideas. Get together with your senior loved ones this fall to spend time and create Halloween decorations. Find inspiration from Elder One Stop, visit Bethesda's blog for more Halloween ideas for seniors, or come up with your own fun ideas to celebrate the season!
Here at Bethesda, fall is a fun time for our senior residents and their families. Learn more about the activities for our residents and their families year-round, and visit a community near you to see what Bethesda has to offer!
Want to find out more?
If you'd like to stay up to date with Bethesda Health Group, sign up here to receive our blog and newsletters!
Want to find out more?
If you'd like to stay up to date with Bethesda Health Group, sign up here to receive our blog and newsletters!