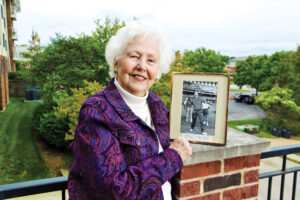 Putting family first is the key to all great senior living experiences. Gloria Eickmeyer is living proof, as she and her late husband, Ray, experienced years of trusted care at Bethesda—from the birth of their son to whatever illness or needs the family faced.
First Impressions
Shortly after Gloria and Ray Eickmeyer moved to St. Louis in 1960, Ray became ill. After searching for a doctor, Bethesda General Hospital was recommended to them. There, doctors found that Ray's appendix had burst, resulting in a massive infection throughout his body. He underwent surgery at the hospital and spent two months there, recovering. Both Gloria and Ray were impressed by the level of care and courtesy they found there.
"The surgeons and staff were wonderful, and we felt so cared for and treated very kindly," says Gloria. "I spent so much time there, caring for him that I got to know everyone at the hospital, and we became like family."
Years of Trusted Care
Two years later, their son was born at Bethesda General Hospital. Their son needed surgery when he turned four months old and for the Eickmeyers, there was no doubt as to who would perform the surgery. "At that point, I felt very confident in the doctors and staff at Bethesda General," remembers Gloria. "Everything went well, as expected, and he recovered nicely."
After years of living in and serving the St. Louis area as educators, Gloria and Ray ultimately retired to Hot Springs, Arkansas. Their son remained in St. Louis and they returned regularly to visit him and their doctors.
Returning to St. Louis
When Ray became ill years into their retirement, they moved back to St. Louis for medical assistance. In 2009, Ray went to Bethesda Dilworth, for recovery and Gloria moved into Bethesda Gardens.
Living at Bethesda communities made this difficult time easier for the couple. "I went [to Bethesda Dilworth] every day to be with him, while still being able to come home to my apartment in the evenings," she said.
One day, after she returned home from visiting him, Gloria received a phone call that Ray had been taken to the hospital. By the time she arrived, he had passed away.
"Part of the Bethesda Family"
After Ray passed away, Gloria remained at Bethesda Gardens, where she enjoys her independent living. "Living at Bethesda Gardens is the best place in the world for me right now. I can travel, come and go as I please, remain active and still have a comfortable place with many friends to return to every day."
Looking back, Gloria is thankful for the part Bethesda played in her family's life. "We are grateful for being a part of the Bethesda family."
Want to learn more about care at Bethesda? Contact us today for more information.
Whether in
independent living
,
assisted living
,
memory care
, or
skilled nursing
, Bethesda offers the right amenities, services, programming, and staff to make every day full of purpose. See for yourself and tour our independent living communities, including
Bethesda Barclay House – Clayton
,
Bethesda Gardens – Kirkwood
,
Bethesda Orchard – Webster Groves
,
Bethesda Terrace – South County
,
Village North Retirement Community – Florissant
, and
The Oaks at Bethesda Villas – Kirkwood/Webster
.
Want to find out more?
If you'd like to stay up to date with Bethesda Health Group, sign up here to receive our blog and newsletters!
"*" indicates required fields
Want to find out more?
If you'd like to stay up to date with Bethesda Health Group, sign up here to receive our blog and newsletters!
"*" indicates required fields