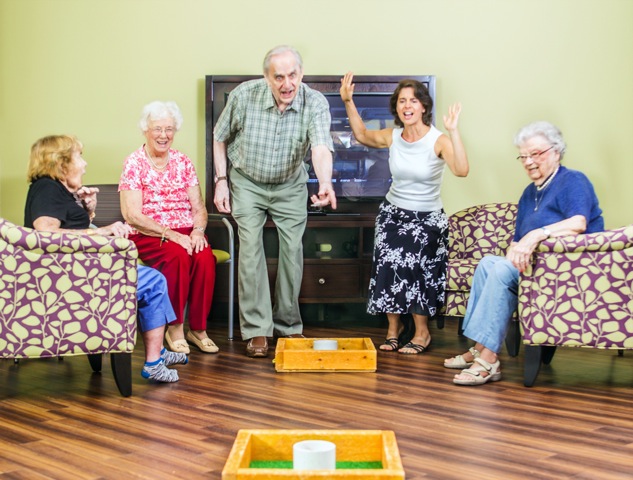 Living an active, social life can improve your health and mood. This practice becomes increasingly important as we get older and face various circumstances that create social isolation and cause loneliness. One of the goals at St. Louis independent living communities is to offer opportunities to cultivate friendships and social connections with other seniors who come from all walks of life. Retirement living can be a truly liberating lifestyle, giving you the time to actively pursue your interests and hobbies.
Communities Build Companionship
Living in a retirement community allows seniors to foster new friendships with people of similar ages and interests. Sharing meals together and living in a communal space helps seniors make new friendships. Whether it's through community-sponsored activities or just proximity, living with peers creates bonds that might not otherwise exist. As a result, many residents do not have to worry about feeling lonely in their retirement years.
Fun Activities Enhance Seniors' Lifestyles
Many St. Louis independent living communities offer activities based on the likes and needs of the residents. Social activities and community participation can contribute to a senior's quality of life and a more positive self-image.
Classic Games
Games have been around for as long as people have been able to gather and enjoy themselves. Some of the more popular ones that have appealed to seniors for decades are:
Card Games, such as Bridge, Poker, Uno, etc.
Board games, such as Scrabble, Trivial Pursuit, etc.
Chess and Checkers
Bingo
Dominoes
Puzzles
Yahtzee
Health and Wellness Activities
We all know that exercise is important, but it's hard for many people, including seniors, to stay motivated. Getting up and moving around can be easier and more motivating when you're participating with others. Many St. Louis independent living communities offer:
Exercise and Aerobics classes
Yoga
Relaxation classes and breathing techniques
Interactive games
Walking
Gardening
Tai Chi
Arts Activities
Promote your creativity, imagination, and self-expression with activities such as:
Arts and crafts
Music
Drama
Dance
Education/Information Activities
Stimulating the mind is just as important as stimulating the body. While self-guided exploration of libraries and computers can be satisfying, they sometimes don't engage people as much as in-person events. Luckily, many St. Louis independent living communities go out of their way to organize educational or informational events, such as:
Informational lectures
Expert speakers on senior topics
Advice from professionals: physicians, attorneys, etc.
Skill-Building Activities
It's never too late to learn a new skill or improve an old one. These activities can increase self-esteem and develop a stronger sense of competence:
Computer classes
Carpentry
Book Clubs
Cooking and sewing
Entertainment
Of course, some of the best opportunities to socialize at St. Louis independent living communities are large events that revolve around people just having fun. These can include:
Concerts and plays
Day trips to museums, parks, wineries
Happy hours and themed parties
Karaoke
Trivia contests
Visiting Entertainers
Wii competitions
Volunteer Work
Volunteering is another great way to stay socially active and form strong connections with people who share a mutual interest. Research has shown that seniors who volunteer have higher self-esteem, greater life satisfaction, and higher levels of energy. Many retirement communities offer volunteer programs, such as welcoming new residents and participating in intergenerational activities with children and teens, among others.
Spiritual Activities
Spiritual activities, such as religious services, celebrations of religious holidays, prayer groups, and meditation classes can help residents find meaning, purpose, and value in life.
Support Groups
Some retirement communities may offer on-site support programs, including classes and workshops for residents facing personal issues or coping with a loss. These groups can promote camaraderie and a sense of belonging among residents in a non-judgmental environment.
Finding the Right Community for You
Not all retirement communities in St. Louis offer all these services. It's important to do some research of each community beforehand to see which one fits your lifestyle best.
Want to find out more?
If you'd like to stay up to date with Bethesda Health Group, sign up here to receive our blog and newsletters!
Want to find out more?
If you'd like to stay up to date with Bethesda Health Group, sign up here to receive our blog and newsletters!