Pets are popular with many seniors because they offer companionship and security. However, according to experts, animals not only make seniors happier—they may make them healthier, too. Bethesda Health Group is offering animal-assisted therapy services to its residents—with exciting results!
What Is Pet Therapy?
According to the Mayo Clinic, pet therapy is a broad term that includes animal-assisted therapy and other activities.
Animal-assisted therapy is a growing field that uses dogs or other animals to help people recover from or better cope with health problems, such as heart disease, cancer and mental health disorders. Animal-assisted activities, on the other hand, have a more general purpose, such as providing comfort and enjoyment for residents living in skilled nursing communities.
Although pet therapy can serve many purposes, it is most often used to help a person recover from or cope with a health problem or mental disorder. This practice can be beneficial to those rehabbing from surgery at home or in hospitals, assisted living centers, retirement living communities, skilled nursing communities, or hospice care.
Dogs and cats are most commonly used for pet therapy, however a wide range of pets can be used—including fish, guinea pigs, horses—depending on the therapeutic goals of a person's treatment plan.
Pet Therapy Is a Growing Trend!
The practice of bringing animals and people with health issues together, especially seniors, is quickly gaining popularity with the medical and senior care communities.
Animal-assisted therapy isn't a new concept either. More than a century and a half ago, in 1859, Florence Nightingale, the founder of modern nursing, recognized that interactions with animals could be good therapy. She wrote that a pet "is often an excellent companion for the sick, for long chronic cases especially."
Pet therapy can be helpful to people who are rehabbing from surgery at home, and people in hospitals, assisted living centers, retirement living communities, skilled nursing communities or hospice care.
Benefits of Pet Therapy
According to Paws for People, a pet therapy organization, health and wellness benefits include lowered blood pressure and improved cardiovascular health. In addition, contact with an animal causes the body to release endorphins, reducing pain and decreasing the need for medication.
Mental health benefits include improved spirits while decreasing feelings of isolation or alienation, increased communication and comfort, and reduced boredom and anxiety.
Why Do Pets Make People Healthier?
Pets are used for therapy for a variety of reasons. Providing companionship is only a part of the picture. "Older pet owners walk significantly farther when they walked with a dog, which might contribute to their making fewer visits to the doctor," said Dr. Mario Garrett, Professor of gerontology at San Diego State University.
"In nursing homes, the presence of a dog is associated with reduced need for medication, improved physical functioning, and improved vital signs—even when patients are suffering from dementia," Dr. Garrett said. "The list of benefits includes reductions in loneliness, agitated behaviors, and depression, and increases in engagement, well-being, nutritional intake, and social interactions."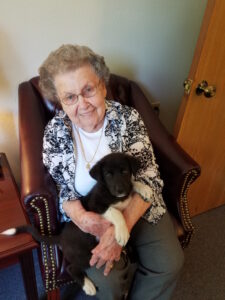 Pet Therapy at Bethesda
Some Bethesda residents can experience pet therapy with the help of Andrea Snyder, General Manager at independent living community Bethesda Terrace, who is actively involved with a pet rescue group.
Andrea brings animals rescued by Needy Paws Rescue, a not-for-profit organization dedicated to saving abandoned dogs, to Bethesda Terrace for visits with the residents. Andrea's own pet, a golden retriever named Hunter, is also training to be a therapy dog and has gotten the opportunity to spread joy at Bethesda Terrace.
"I sometimes bring foster dogs to work for socialization purposes," said Andrea. "But there is a dual benefit in that you can see the morale of our residents and even the staff improve immediately when they come for a visit."
Andrea said she's glad she can offer the services of the therapy pets to Bethesda Terrace residents because the benefits are so obvious. She said when residents and their families are asked to fill out satisfaction surveys, the pet therapy visits are often mentioned as one of their favorite features.
In addition to making Bethesda Terrace residents more cheerful, Andrea said the pets have a calming effect on residents or members of their families who are stressed out, often because of health-related issues.
Ready To See Pet Therapy in Action?
If animal-assisted therapy would benefit you or your loved one, we encourage you to explore this practice!
To learn more about pet therapy and how we utilize this service, schedule a tour of our Bethesda Terrace location.
Want to find out more?
If you'd like to stay up to date with Bethesda Health Group, sign up here to receive our blog and newsletters!
"*" indicates required fields
Want to find out more?
If you'd like to stay up to date with Bethesda Health Group, sign up here to receive our blog and newsletters!
"*" indicates required fields