Over the years, Bethesda has developed a tremendous reputation in the St. Louis metropolitan area for providing quality senior living, care and services for St. Louis seniors and the general community.
Additionally, we have been fortunate to attract and retain a core group of employees and volunteers who customarily go "above and beyond" any and all expectations when it comes addressing and meeting the wants and needs of our residents and their families.
The efforts of these employees and volunteers have not gone unnoticed. Thanks to their collective commitment to quality, Bethesda has been honored by a number of civic and professional organizations for excellence in performance, customer service and community responsibility:
Best Places To Work Finalist 2021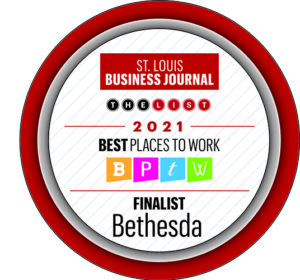 For the second consecutive year, Bethesda was named a category finalist in the annual "Best Places to Work" contest, coordinated by Quantum Workplace and the St. Louis Business Journal.
Only 75 area businesses and non-profit organizations of the more than 200 that applied for consideration were selected as category finalists. The finalists were determined by responses to a survey sent to all employees. More than 250 Bethesda employees completed the survey, which accounts for almost one quarter of all of our staff.
After finishing 4th in the Giant (1000+ employees) category in 2020, Bethesda moved up to 3rd in 2021!
Congratulations to everyone who works at Bethesda for this tremendous achievement!
St. Louis Green Business Challenge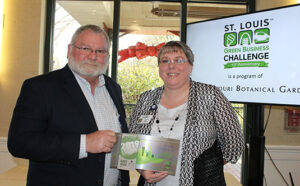 Bethesda has been an active participant in the Green Business Challenge since 2013. Once again, Bethesda achieved Champion Level recognition.
The Challenge, a joint venture between the Missouri Botanical Garden and St. Louis Regional Chamber, tasks organizations with finding innovative ways to improve sustainability.
Among the sustainable advancements made by Bethesda in 2019:
LED lighting in communities, parking lots and monument signs
Better use of underutilized green space
High-efficiency laundry equipment
"Pathways to Greatness"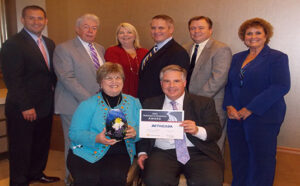 How impressive of an achievement is receiving the "Pathways to Greatness" award? Senior living, care and service organizations from across the nation are considered for the award, and only one organization per year is honored!
Selected by LeadingAge and CliftonLarsonAllen , "Pathways to Greatness" recognizes quality, innovation and excellence, and the impact that the organization and its initiatives and programs have on people's lives. A panel of national industry experts judged the more than 50 applications submitted for the 2013 award.
According to CliftonLarsonAllen, Bethesda demonstrated strength in response to its customer's needs and expectations; commitment to integrating technology to improve care with better patient outcomes, and partnering with other providers in the community.
Arcus Award for Educational Attainment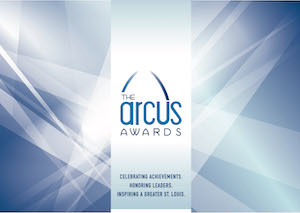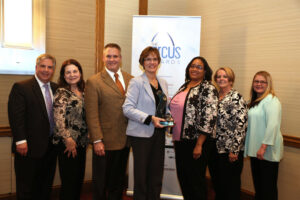 In the first year (2013) that the St. Louis Regional Chamber replaced the "Top 50 Businesses in Greater St. Louis" with the Arcus Awards, Bethesda was selected from among eight finalists as the winner of the award, in which we were recognized for providing leadership in the area of workforce educational and skills development.
Among the specific initiatives for which Bethesda was honored (all of which are still in place today):
Tuition Reimbursement
"School at Work" Program
LPN to RN program
Bethesda Institute (employee development training)
St. Louis Community College partnership
Missouri Healthcare Workforce Innovation Networks
Mary June King Scholarship Fund
"Spirit of Innovation"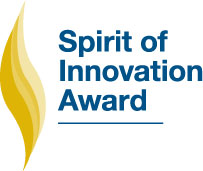 Bethesda was selected as a winner of the LTC (long-term care) & Senior Living LINK Spirit of Innovation awards in 2012 and 2013. Lincoln Healthcare coordinates the selection of this national award, which recognizes organizations for their innovation, dedication to continuous improvement, development of best practices, and commitment to the success of the long-term care industry.