Bethesda nominated three team members and two volunteers for the 2017 VOYCE Caregiver Awards. VOYCE, formerly known as the Long Term Care Ombudsman Program, serves Greater St. Louis and the surrounding areas to ensure a high quality of life for people living on the long-term care continuum. The organization holds an annual award luncheon, which this year took place on Nov. 30 at the Renaissance St. Louis Airport Hotel, to honor outstanding caregivers and volunteers from the area.
Five Nominees, Two Honorees
Lorenzo Coleman, a Certified Medication Technician who works at Bethesda Southgate and Tiffany Knebel, a social worker who works at Bethesda Dilworth, were among 18 honorees selected by VOYCE from among the nominees in the long-term care division.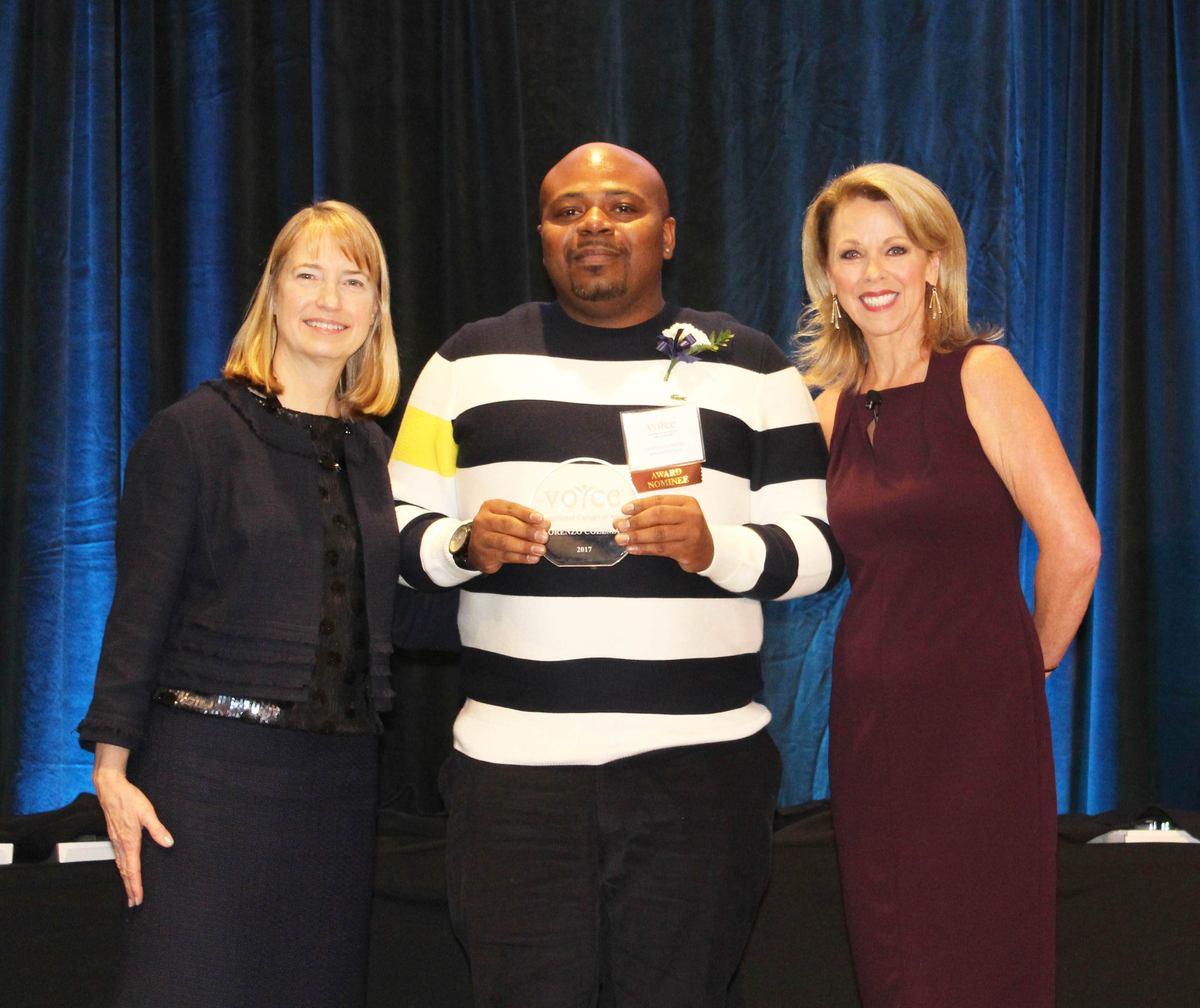 Lorenzo has been working at Bethesda Southgate, a skilled nursing community in South County, for seven years. He is known for having a special touch with residents, which give him the ability to break through frustration and fear to communicate with and soothe seniors in challenging times. Lorenzo is always willing to go the extra mile to fix any problem that arises.
Lorenzo's calm and welcoming personality gives him an advantage when working with residents on memory support. He is often the go-to person when a resident needs an extra walk down the hall, extra time to finish their meal or a hand held when they are having a rough day.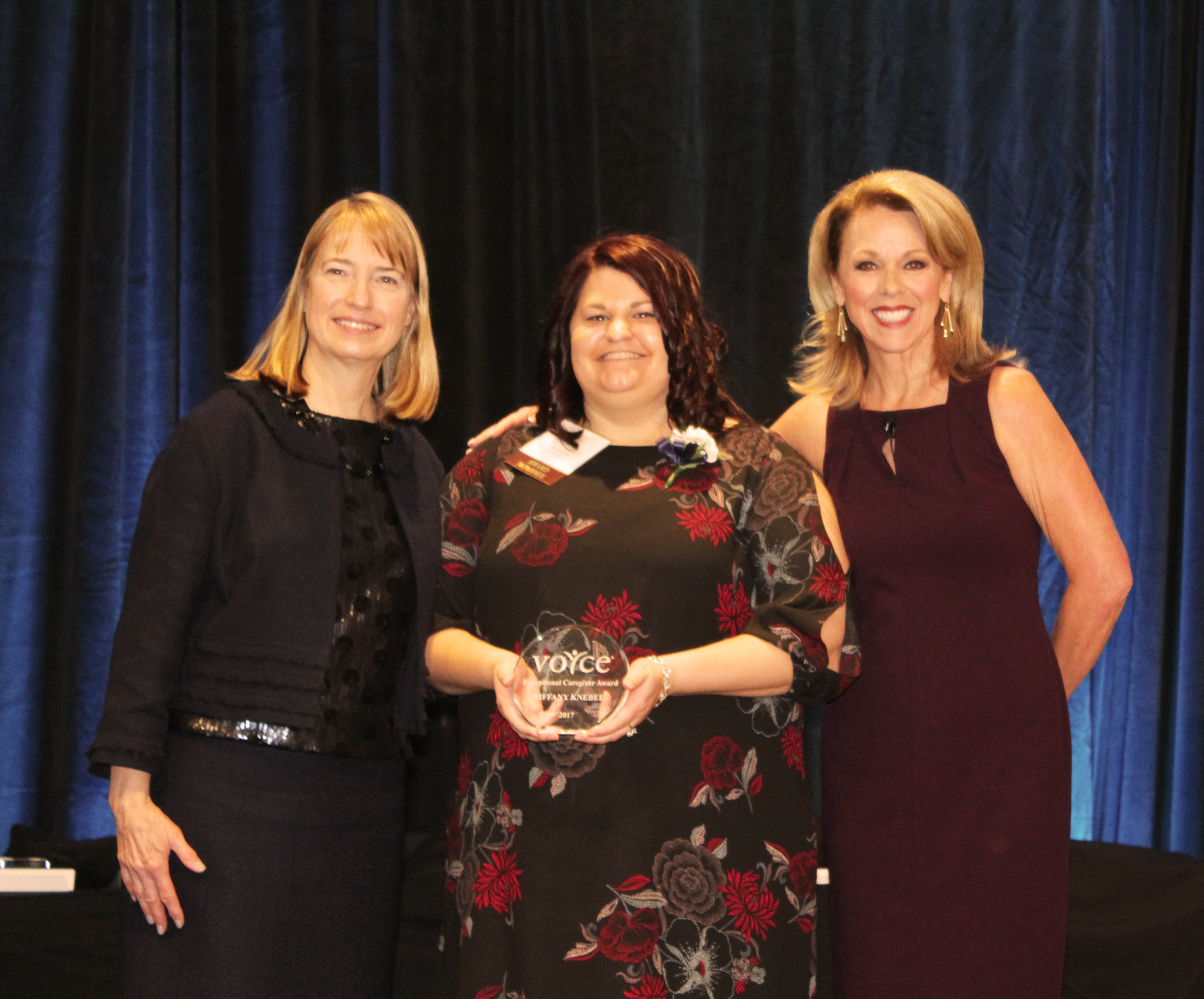 Tiffany is an advocate and a resource for her residents at Bethesda Dilworth, showing she truly cares about their wants and needs.
She gets to know each resident personally. She develops relationships with families and offers support for family members who have questions and do not know where to turn for help.
Tiffany served as the chair for Bethesda Dilworth's participation in the Alzheimer's Association's "Walk to End Alzheimer's" in November 2017. She is an integral member of the Interdisciplinary Team at Bethesda Dilworth, and she is known for doing whatever it takes to get things done.
She is able to tackle tough challenges that may arise at a skilled nursing community. For example, she recently helped to coordinate the move of an entire floor of Memory Support residents to a different floor of the building – a task with lots of moving pieces that could cause stress for many residents and staff.
Tiffany took pictures of each resident's room to ensure they would be exactly the same in their new neighborhood. Her positive attitude, strong love of the elderly, sense of humor, hard work and determination made her a perfect nominee for a Caregiver Award.
Bethesda's additional nominees were:
Darlene Cosby, the Director of Nursing at Bethesda Southgate, who is credited with bringing a special brand of compassion and kindness to her work.
Dianne Mollet, a volunteer at Bethesda Meadow, who offers friendship to residents and treats them as if they were guests in her own home.
Jim Timar, a volunteer at Bethesda Dilworth, who is a Vietnam Veteran and 2014 Missouri Lieutenant Governor's Veterans Service Award winner.
Well-Deserved Recognition
In all, 97 caregivers from 53 senior care organizations and communities across the St. Louis region were nominated for the 2017 VOYCE Caregiver Awards.
Congratulations to all of the nominees, recipients, and Bethesda's honorees!
If you're ready to make a difference in the lives of seniors, consider volunteering at a skilled nursing community near you! Bethesda's senior living communities offer volunteer opportunities across the St. Louis area. Browse our Volunteer page to find the opportunity and community that is right for you.
Want to find out more?
If you'd like to stay up to date with Bethesda Health Group, sign up here to receive our blog and newsletters!
Want to find out more?
If you'd like to stay up to date with Bethesda Health Group, sign up here to receive our blog and newsletters!